Brand Experience and UX create digital brands.
Brands are becoming more and more digital. Without a website, platform or eCommerce, it's hard to imagine a brand truly establishing itself in the world of its consumers or clients. Online presence (including online marketing) is no longer a convenience, but the necessary proof of one's existence. Last but not least, the digital brand has become a lifeline: in times of pandemics, digital brand presence, brand experience and user experience become a survival factor.
As a brand, the main thing is to be online?
Spontaneously: yes. Reflectively: no. The mindset of "done is better than perfect" is harmful in this context. Too many brands rely on quick generic solutions with templates and website builders, for example, simply because they don't have the resources or the right technology and workflows to scale in a design-friendly way. What works for small business and B2C can be deadly for B2B brands. The problem that arises: the user experience negatively impacts the brand experience.
Last week, we stumbled across a marketing post from the McLaren Mercedes brand. The new "Artura" supercar costs a whopping 220,000 euros in basic equipment, making it the brand's shining flagship star, so to speak. McLaren has been hit hard financially by Covid and has seen sales drop by more than 60% compared to the previous year 2020. In front of shareholders and buyers, it would make sense to nurture the brand and the brand image in order to master such crises with aplomb and come out of the crisis with a new car and new momentum.
The opposite was true.
The McLaren Retailer's LinkedIn post is a sponsored post to generate leads from prospective buyers. Instead of a car for 220,000 euros, we wouldn't even order a pizza for 10 euros for lunch via such forms online: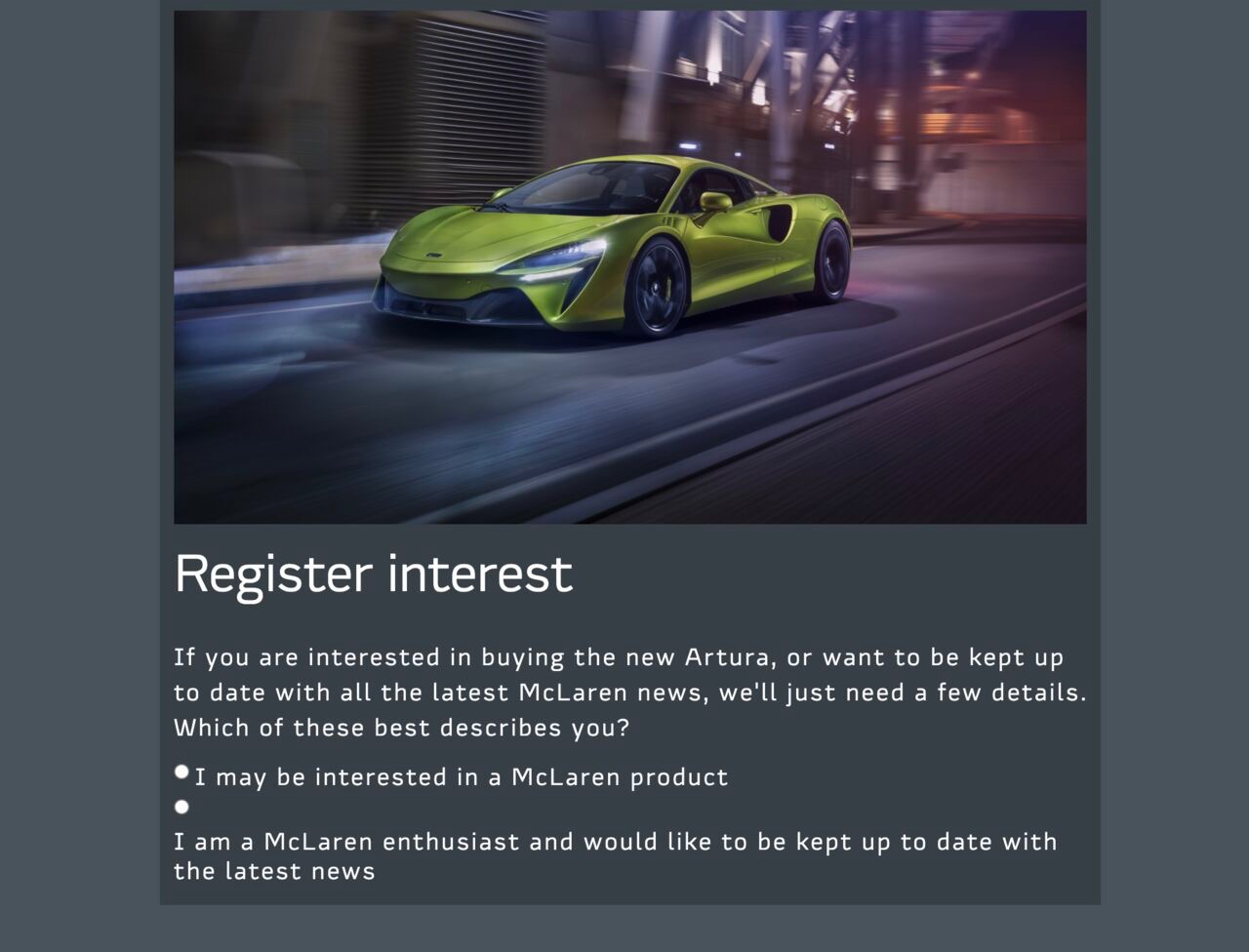 Even if the input mask would be successful based on numbers – the brand carries massive damage with the viewer. User Experience is Brand Experience and because the atmosphere of the Experience definitely does not live up to the luxury of a 220,000 Euro car, the Brand Experience will individually damage the brand image.
When it comes to User Experience, we often only think in a very limited way about the user experience on a website. Unfortunately, the entire context is left out: that the brand is always placed within this User Experience.
Every user experience has an impact on the brand
User Experience is Brand Experience and a good brand image alone does not guarantee that the brand will survive a bad UX unaffected. Because user experience is everywhere and brand is always involved, it makes sense to examine the touchpoints with the customer:
What experience do you want a customer to have in those contacts?
What value proposition does the brand want to exude?
How can every UX become a brand experience?
Such questions can only be answered easily if the basis of brand communication has been answered conclusively in corporate identity and is implemented consistently in branding and brand design. Every user experience has an impact on the brand. Brands without a good corporate identity usually have a poor brand experience because the basis of …
Values > Purpose > Mission > Vision
cannot be translated into branding and marketing in the first place. Without vision, there is no mission, and a mission comes from values and the purpose it implements. Applied to the case of McLaren, this ladder could graphically look like this (wording taken from the corporate report for investors August 2020)
Vision: Creating the ultimate ownership experience
Mission: Creating iconic supercars
Purpose: Roots and pride in racing & innovation
Values: high-performance, luxury, ultimate experience
If we check McLaren's lead generation form with this hierarchy of values to vision we find: the brand experience doesn't exactly exude ultimate experiences and luxury. And that's what's wrong with the ad and damaging to the brand.
Brand design is the only trust factor online.
We could argue that this touchpoint is "merely" one input screen of many. As a design agency, we would argue that every brand experience is EVERYTHING. When online touchpoints become the selective only touchpoint with brands, that one touchpoint counts 100% in perception, even if it only accounts for 1% of marketing. The wholeness of these touchpoints is what creates a brand in us. If 2 out of 4 possible touchpoints leave such a negative image of a brand, negative 50% brand perception is created.
User Experience is no longer "Ugly sells".
Brains seek consistency in patterns. Our preference, therefore, tends toward brands that consistently try to achieve the positive 100%. In UX, there used to be talk of "ugly sells" – a state in which small flaws in a digital user experience were considered human/approachable and therefore authentic, leading to more conversions.
This wisdom has long since ceased to apply.
Design builds trust. Every digital (therefore mostly anonymous) touchpoint needs this trust. 75% of credibility in e-commerce, for example, is based on design. At the same time, we can create the best e-commerce experience in the world and achieve nothing if the resources in branding and marketing don't get the same care in the brand experience.
Brand design in UX is the visible brand experience.
Brand Design is the carefully crafted identity and voice of your brand across every digital touchpoint. From a consumer's perspective, we easily notice where poor design impacts our experience of an entire brand in a negative way. Anyone who has ever clicked on a beautiful ad and been led to a terrible-looking e-commerce site knows the internal shift in perception. A terrible ad can lead to the best user experience, which we never get to see through the terrible (and unclicked) ad. User Experience is Brand Experience is every touchpoint is important to your brand – even if you don't sell supercars.
Sind Sie auf der Suche nach einem kreativen Partner, der mit Branding und Corporate Design Ihre Marke für die Zukunft optimiert und für die Digitalisierung bereit macht? Benchmark Design ist eine Designagentur in München. Wir sind spezialisiert auf kreative und lösungsorientierte Brandings und Corporate Designs, mit denen unsere Kunden von Startup bis Konzern ihre Marke definieren und zu neuer Relevanz finden.
More on this
Brand Design Insights